我們很開心聽見忠義基金會成功出養一個發展遲緩的女孩-小美,讓人感動的是小美的養父母並不介意小美有發展遲緩的狀況,他們比較關心的是等待收養的過程中,小美是否一切安好?因為瑞典離台灣隔了半個地球的遙遠。所以一直都讓他們掛心,小美的成長是順利!!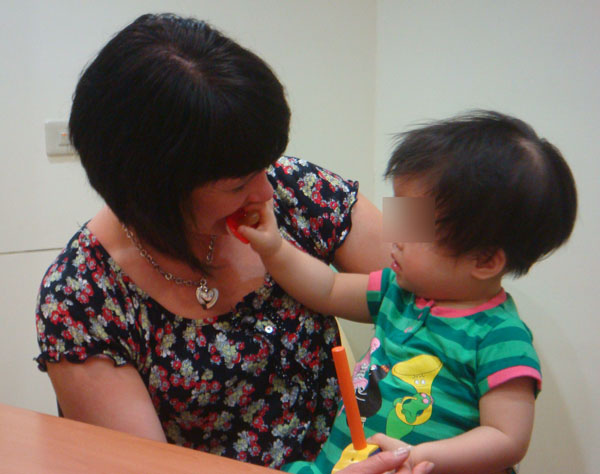 Couple finally brings Taiwan daughter home
<引自 中國郵報>

TAIPEI, Taiwan -- A Swedish couple wishing to expand their family by adopting a child from Taiwan has finally seen their dream come true after an eight-month-wait, the Chung Yi Social Welfare Foundation reported.
David and Anna, whose last names have been withheld, are taking their new daughter, one-year-old "Little Mei" home to Sweden today after their adoption process was delayed due to doctors' concerns over Little Mei's health.
"There were no problems initially when we matched up Little Mei with David and Anna," explained Sam Wang, business planner for Chung Yi Social Welfare Foundation, the agency that helped the new parents find their child. Little Mei was born to a single mother with financial woes who was forced to give her up. The foundation made sure she fit David and Anna's only criteria, which was a wish for a child under two.
"However, we grew concerned when we saw that Little Mei was slow to develop and took her to the doctor's, who discovered she had weak muscle density from stunted growth," Wang said.
Members of the foundation had to contact David and Anna — who were halfway across the world in Sweden — about their future child's health. Oftentimes, any aberration to the condition of the child listed on the adoption papers can potentially alter the entire process.
However, David and Anna did not falter in their determination to make the toddler a part of their life. The couple adamantly maintained that from the moment they were matched with Little Mei, she was irrevocably their daughter.
The Swedish couple, married for nine years, had been unable to conceive, even when they tried in vitro fertilization. According to Wang, David and Anna knew that they could not go through life without kids and would treat any child given to them as their own.
In the months that Little Mei underwent intense treatment, David and Anna sent her toys from Sweden. They were filled with concern of Little Mei's health and inquired often of her progress.
During their wait and unsure of Little Mei's exact condition, the couple attended special parenting courses to equip themselves. They also decided to take a leave from their jobs upon their daughter's arrival to better care for her.
Within months, Little Mei's condition had improved enough for her to be released to her new parents. On March 1st, David and Anna arrived in Taiwan to happily claim their daughter.
During their five day visit, the couple took Little Mei to the Muzha Zoo and around the Taipei area, taking many photos of their daughter's homeland.
David said that Sweden's high acceptance rate of other cultures will be an ideal place for Little Mei to grow up in. However, he wanted to document Taiwan in case Little Mei grows curious when she gets older.
According to Wang, doctors who treated Little Mei told her relieved parents that with a healthy diet and a little physical therapy, chances are good that she will fully recover.
"We [at the foundation] were worried Little Mei might have psychological side effects from her condition," said Wang. "But the doctors assured us that she is healthy and that her chances of a full recovery is excellent."

資料來源 引自 http://www.chinapost.com.tw/taiwan/int%27l--community/2009/03/06/198921/Couple-finally.htm